Whether new to the opera or a longtime supporter, we know that many individuals in retirement communities and assisted living facilities cannot attend an opera performance in person. Opera to Go brings our talented and personable Resident and Apprentice Artists to retirement communities and assisted living facilities where audiences will enjoy a 45-minute program of opera arias, duets, and music theatre favorites. Click here to see a sample program.
Register now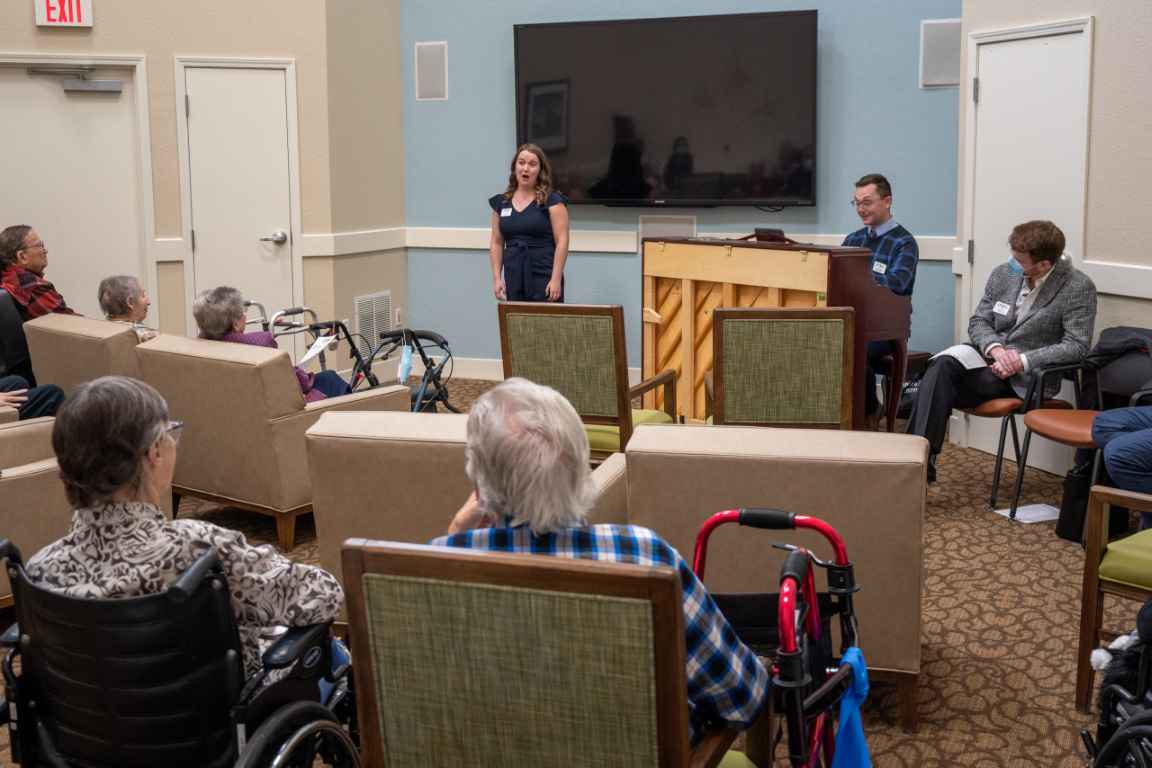 Opera to Go is available during the periods listed below. Register ASAP for priority scheduling.
November 13, 2023 to November 17, 2023
May 6, 2024 to May 10, 2024
"Once your singers began, everyone was utterly entranced. We have residents who are usually too restless to sit for more than a few minutes at a time, but even they stayed in their chairs for the full performance. It was transcendent. People forgot to be restless, forgot their pain, forgot the loneliness of old age, and were just awash in music. I have never seen the people I work with so… transported."
– Bridey Stangler, Clare Bridge Coordinator at Brookdale Leawood State Line
If you have any questions, contact Neal Long, Director of Learning, at nlong@kcopera.org or (816) 802-6054. Photo by Andrew Schwartz.
Opera to Go is generously sponsored by:
Lyric Opera proudly brought Opera to Go to at least 640 audience members at 18 partnering communities in the 2022-2023 season:
Anthology of the Plaza (Kansas City, MO)
Bishop Spencer Place (Kansas City, MO)
University Health Truman Medical Center (Kansas City, MO)
Brookdale Wornall Place (Kansas City, MO)
Aberdeen Village (Olathe, KS)
Brookdale Shawnee (KS)
Homestead of Lenexa (KS)
Village Shalom (Overland Park, KS)
Foxwood Springs (Raymore, MO)
The Village at Mission (Prairie Village, KS)
Homestead of Olathe Assisted Living South (KS)
Autumn Terrace Health and Rehabilitation (Raytown, MO)
Claridge Court (Prairie Village, KS)
Platte Senior Services (Kansas City, MO)
Fairways of Ironhorse (Leawood, KS)
Benton House of Tiffany Springs (Kansas City, MO)
Brookdale Overland Park (KS)
McCrite Plaza at Briarcliff (Kansas City, MO)
Lyric Opera proudly brought Opera to Go to at least 550 audience members at 18 partnering communities in the 2021-2022 season:
Twin Oaks Assisted Living (Lansing, KS)
Infinity Park Post-Acute and Rehabilitation Center (Overland Park, KS)
Homestead of Lenexa (KS)
Homestead of Shawnee (KS)
Brookdale Shawnee (KS)
Garden Village Retirement (Kansas City, MO)
Claridge Court (Prairie Village, KS)
Colonial Oaks of Spring Hill (KS)
Spring Hill Care and Rehabilitation Center (KS)
Brookdale Wornall Place (Kansas City, MO)
Garden Terrace Overland Park (KS)
Brookdale Leawood State Line (KS)
Heritage Village of Platte City (MO)
Brookdale Overland Park (KS)
The Village at Mission (Prairie Village, KS)
Carnegie Village Senior Living (Belton, MO)
Benton House of Tiffany Springs (Kansas City, MO)
Village Shalom (Overland Park, KS)